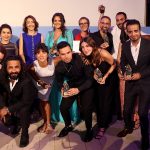 Winning Films Announced at the 4th Edition of the Amman International Film Festival 
August 23, 2023
Amman, 29 August 2023 – While the 4th edition of the Amman International Film Festival – Awal Film (AIFF) just wrapped, it is also marking the planting of 1633 trees as part of its commitment towards a sustainable and environmentally friendly film festival and film industry, offsetting the festival's carbon footprint that results from the event.
This year, the AIFF will make a financial donation to the Arab Group for the Protection of Nature (APN) to plant a total of 600 trees in Jordan in addition to the 900 trees already planted throughout the past three years.
In addition to the offsetting mentioned above, the festival took action on multiple levels in order to ensure maintaining its environmentally friendly strategy by:
Reducing the printing of communication and branding material and repurposing them.
Using recycled paper whenever needed.
Removing the diesel engine from the drive-in cinema.
Creating customized best practice notes for the festival guests.
Eliminating plastic water bottles and providing instead water refill stations.
Eliminating the single-use materials from the office.
Hosting a panel about a sustainable film industry was discussed.
Promoting sustainable practices on social media by using the following hashtag: #SustainableCinema
The AIFF is committed to continue the promotion of environmentally friendly procedures in the coming years.
---
The Festival is made possible with the support of long-standing partners: Jordan Tourism Board, The Royal Film Commission – Jordan, Abdali Investment and Development, Zain Jordan, Royal Jordanian, Edgo, Ghiath & Nadia Sukhtian Foundation, Jordan Kuwait Bank, Capital Bank, Greater Amman Municipality, HUE, Al-Markazia – Lexus, TAJ Cinemas.
For all information visit our website www.aiff.jo or call +962792222011.
For inquiries about Arab and International competitions email us at info@aiff.jo.
For questions on the Amman Film Industry Days email us at afid@aiff.jo.