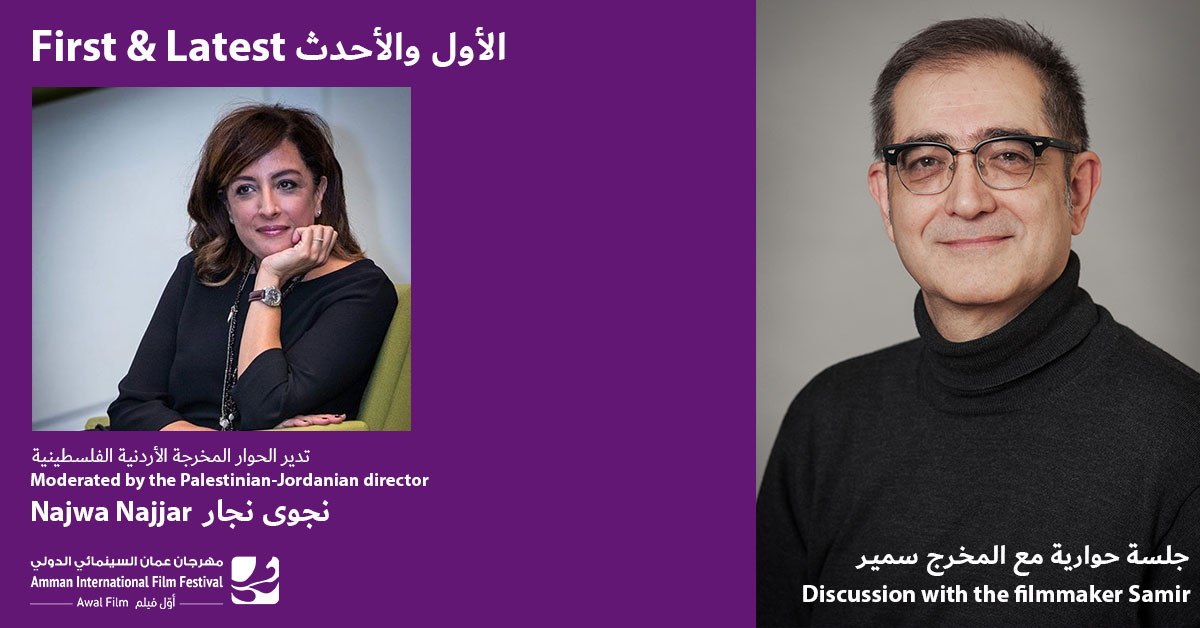 Samir, the multi-awarded Swiss filmmaker of Iraqi origin, will take us on a journey starting with his very first film, visiting some of the experiences that influenced his cinematic language and ending with his latest production. The director will share his knowledge, expertise and lessons learnt along the way, while analysing how challenges have helped him mature as a director.
This talk/discussion is moderated by the Palestinian-Jordanian director Najwa Najjar.
The talk will take place at the Film House of The Royal Film Commission – Jordan (RFC) in the presence of no more than 15 people.
Language of the talk: English
For those interested in being physically present at The Film House, please fill the form by Friday 28th August, at 8 pm. Only the first 15 people registered will be hosted, due to safety regulations.
For those who wish to participate in the session online, please fill the form in order to receive the Zoom link.
Samir's Biography
Born in 1955 in Baghdad, Samir migrated with his family to Switzerland in the 60's. He studied at the School of Arts in Zurich. He completed an apprenticeship as a typographer, and subsequently trained as a cameraman. He was an activist in the radical youth
movement in the early 1980s in Zurich. Today, Samir is known for his unique fiction, documentary and experimental films, whose innovative characters drew attention at various festivals and won numerous awards. His 2019 film "Baghdad in My Shadow" won the Audience
Award at the 2020 Solothurn Film Festival, as well as the Arabian Sights Audience Award at the 2019 Washington DC International Film Festival. In 2014, his documentary "Iraqi Odyssey" received the NETPAC Award at the Abu Dhabi Film Festival. While his 2002
documentary "Forget Baghdad" won him the Critics Week Award at the Locarno International Film Festival. His work to this day encompasses more than 40 short and feature-length films for cinema and television. Beside his own projects as an independent producer
and director, he is also known for directing theatre plays and works in the field of visual arts.
Najwa Najjar's Biography
Najwa Najjar is a Palestinian writer and director. She directed "Pomegranates and Myrrh" (2009) and "Eyes of a Thief" (2014), which was the Palestinian submission to the 2015 Oscars. She has given numerous Director's Masterclasses and was an advisor for Rawi
Screenwriter's Lab, managed by the Royal Film Commission – Jordan. Najjar is a member of the Academy for Arts and Sciences Writers, and worked in both documentary and fiction since 2000.