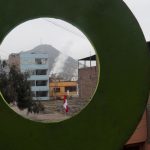 Only the Ocean Between Us | Solo El Mar Nos Separa
August 18, 2021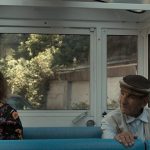 Their Algeria | Leur Algérie
August 18, 2021
Synopsis: Narrated by Ahmed, the author, "The Fifth Story" is a long emotional journey spanning four decades of wars and conflicts in Iraq.
Four main characters; Nassar, the young Bedouin, Akheen, the eighteen-year-old Yezidi female fighter, Ahmed's father, the war gravedigger, and Adnan, the old man who settled in seclusion in Baghdad's train station. Through the self-revealing experiences of these characters, Ahmed tries to heal himself through a spiritual transformation between three chapters that marked his life; fear, anger, and revolution.
---
Director's Biography: Ahmad was born in Baghdad, Iraq in 1994. He received filmmaking training at the Independent Iraqi Film Centre. Ahmed worked as an assistant director with Iraqi director Muhammad al-Daradji to realise his narrative feature film "al-Rihlah" (The Journey), and with director Mohanad Hayal in his feature narrative film "Haifa Street" (nominated by Iraq for the Academy Awards in 2021). Ahmed directed one short narrative, "War Nest", and a short documentary, "Birds of Sinjar", which won the BBC Arabic Film Festival Award for Best in Journalism. His first feature length documentary, "The Fifth Story", won the IDFA FIPRESCI Award in 2020.   
DIRECTORS: Ahmed Abd
GENRE: Documentary
YEAR : 2020
TIME: 90 minutes
RATING: 16+
COUNTRY: Qatar, Iraq
LANGUAGE: Arabic and Kurdish – subtitled in English
EDITING: Raya Yamisha, Mohamad Ali
CINEMATOGRAPHY: Saef Alden
EDITING: Raya Yamisha, Mohamad Ali
PRODUCERS: Aljazeera Documentary Channel
AWARDS: Fédération Internationale de la Presse Cinématographique (FIPRESCI) Prize for First Appearance – Amsterdam International Documentary Film Festival (IDFA) 2020
CATEGORY: Arab Premiere
CATEGORY: Arab Feature Documentary