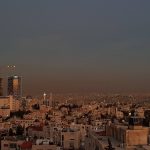 Arts & Culture
June 8, 2020
[vc_row][vc_column][vc_column_text]
If you are staying a few more days in Jordan, we recommend you venture out of the Capital and explore more of the country itself.
You can go for a day trip to Jerash, one of the best Roman preserved cities in the region. You can go for a different swim at the Dead Sea, the lowest point on earth, and enjoy the weightless feeling of floating in its salty waters. Alternatively, you can hike in the lush reserve of Ajloun; and if time allows, spend a night in one of its ecolodges.
Last but not least, take the time to go south and see by yourself the magnificence of the Nabataean city of Petra, one of the Seven World Wonders. Then head towards Wadi Rum
the filming location of so many movies from "Lawrence of Arabia" to "The Martian", "Aladdin" and most recently "Star Wars: The Rise of Skywalker". Stick around till sunset when its sand dunes turn into the most beautiful shades of purple and pink and then spend the night around a bonfire, camping under the stars.
[/vc_column_text][/vc_column][/vc_row]