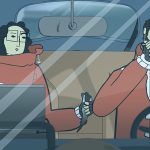 Geisha L.O.V.E
August 18, 2021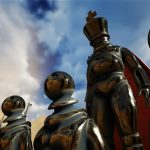 It is Better There
August 18, 2021
Synopsis: Najeeb is a Jordanian writer in his late fifties, indulging in his dreams, believing he is the most famous Arab writer. His relationship with his eleven-year-old son Nour, with whom he shares every decision and choice in life, represents the essence of his life as a writer and artist.
Najeeb collides with some facts in a hopeless society that does not appreciate art, especially after his book launch ceremony, which represents the pinnacle of his artistic life, popping his bubble and returning him back to reality. Standing in front of a crossroads between his flowery world and a faded reality.
---
Co-Directors' Biography: Ghaith and Laith Al-Adwan are Jordanian film directors and writers. Ghaith Al-Adwan worked on several film projects as a visual effects supervisor, editor, and digital artist. Ghaith got the opportunity to work in many local and international productions that were part of international festivals.
< Laith Al-Adwan worked as a writer, cinematographer, and director on a number of short fiction films and documentaries. He also worked as an editor and technical assistant for films at the Royal Film Commission of Jordan and Backup & Beyond Festival in Germany.   
DIRECTORS: Ghaith Al-Adwan, Laith Al-Adwan
GENRE: Drama
YEAR : 2021
TIME: 14 minutes
RATING: General Audience
COUNTRY: Jordan
LANGUAGE: Arabic – subtitled in English
SCREENPLAY: Ghaith Al-Adwan, Laith Al-Adwan
CAST: Abdullah Jriesat, Jala Sa'ed, Yassmin Aldalo
CINEMATOGRAPHY: Ahmed Jalboush
EDITING: Abdallah Sa'da
PRODUCERS: Sulieman Tadros, Ghaith Al-Adwan, Laith Al-Adwan
CATEGORY: Jordanian Premiere
CATEGORY: Arab Short Films