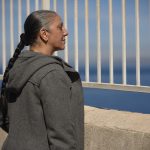 Good Mother | Bonne Mère | Franco-Arab Section
July 11, 2022
The River | Franco-Arab Section
July 11, 2022
Synopsis: Filmmaker Karim Aïnouz decides to take a boat, cross the Mediterranean and embark on his first journey to Algeria. Accompanied by the memory of his mother, Iracema, and his camera, Aïnouz gives a detailed account of the journey to his father's homeland, interweaving present, past, and future.
Director's Biography: Karim Aïnouz is an award-winning film director and screenwriter. He was born in 1966 in Brazil to a Brazilian mother and an Algerian father. Aïnouz debuted as feature director with Madame Satã (Cannes Un Certain Regard 2002). Other works include Nardjes A. (Berlin Panorama 2020), Central Airport THF (Berlin Amnesty Prize 2018), Futuro Beach (Berlin Competition 2014), The Silver Cliff (Cannes Director's Fortnight 2011), and Love for Sale (Venice Horizons 2006). In 2008, Aïnouz has co-directed the TV series Alice for HBO Latin America. His latest feature, The Invisible Life, premiered in Cannes Un Certain Regard in May 2019 where it received the Main Award and more than 50 prizes worldwide. Aïnouz is also a member of the Academy of Motion Pictures Arts and Sciences.
Director: Karim Aïnouz
Genre: Documentary, Romance
Year: 2021
Duration: 95 minutes
Rating:13+
Country: France, Brazil, Germany, Algeria
Language: French, Arabic (Algerian Dialect), Portuguese, Tamashek
Subtitling: English
Cinematography: Juan Sarmiento G.
Editing: Ricardo Saraiva
Production: Video Filmes, Watchmen Productions, Marie-Pierre Macia, Christopher Zitterbart
Awards: Istanbul Film Festival 2022 / Winner: Special Jury Prize - International Competition
Début Status: Jordanian Première
Caregory Franco-Arab Rendez-Vous