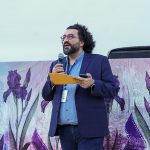 The Winners of the Pitching Platforms Announced at the Amman International Film Festival – Awal Film
July 28, 2022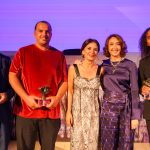 The Winning Films of The Black Iris Awards Announced at the Amman International Film Festival – Awal Film
July 28, 2022
Red Carpet for the Opening of the 3rd Edition of The Amman International Film Festival – Awal FilmThe third edition of the Amman International Film Festival-Awal Film (AIFF) was launched last night, 20th of July, in the Jordanian capital, in the presence of Prince Ali Bin Al Hussein and a large number of Jordanian and foreign personalities, Arab and international directors, actors, actresses, and film experts, as well as the Festival's partners and several local, regional and international media outlets.


With the restored connection and proximity amongst people, this is the first time that the Festival organises an opening ceremony on the red carpet at Al-Hussein Cultural Center in Ras Al Ain. The ceremony started with a music and dance performance, followed by the screening of the movie "Peace by Chocolate", directed by Jonathan Keijser and starring the great late actor Hatem Ali, telling a humane and heartfelt inspiring story based on true events.




Introduced by the Jordanian artist Zain Awad, Princess Rym Ali, the Festival's President, announced the launch of the third edition, which will take place until 27th of July. She said in her welcoming speech: "Third time lucky they say! We are indeed very fortunate to have received the immense support that has made this Festival not only exist but also grow." She added: "This year's films are diverse and tackle different topics, I will not go into their details, but I would like to refer here to a saying by the famous French-Swiss filmmaker Jean Luc Godord: "Every film is the result of the society that produced it.". During the seven days of the Festival, we will witness a confirmation of this saying especially through the eyes of the Arab filmmakers (…) May the Festival Begin!"




This year, the AIFF will present an exclusive edition with 49 films – Arab and international, narratives and documentaries – all recent and high-quality productions, either released in 2021 or 2022, and showcased for the first time in Jordan. The Festival is hosting some 100 filmmakers, actors/actresses, producers and film professionals from abroad joining the local filmmaking community. Most screenings are followed by a discussion with the filmmakers.




With intensive preparations around the clock for months, the Festival carefully curated a rich program of films, all Jordanian premières. Three juries – made up of film experts with outstanding professional experience – will select the winning movies, which will receive the Black Iris Trophy, designed by the late artist, Muhanna Durra, in addition to cash awards.




For the second consecutive year, the AIFF is hosting the special non-competitive section "Franco-Arab Rendez-Vous". The Festival will host the renowned director, Yousry Nasrallah, in the special section "First & Latest" to highlight his cinematic journey from his début film to the most recent one.

The screenings will take place in three locations: the open-air theatre at the Royal Film Commission – Jordan (RFC) in Jabal Amman, as well as TAJ Cinemas in Abdoun and Drive-in Cinema in The Abdali District (especially built for the Festival).

Since its establishment, the Festival pays special attention to supporting talented filmmakers. The Amman Film Industry Days (AFID) kicked off today presenting a series of workshops, seminars and discussions with directors and film professionals. AFID also provides three pitching platforms for Jordanian and Arab projects in development or post-production. An independent jury will select the winning projects to receive cash and in-kind awards. The winners will be announced at a private ceremony on 26th of July.

The participating Arab filmmakers will be eagerly awaiting the announcement of the winning films of the Black Iris Awards, which will be revealed by the three juries at a closing ceremony that will be held on 27th of July.

For more details about the movies, please click here: https://aiff.jo/films-2022/
For the screenings schedule, please click here: https://bit.ly/3RDSny6
To buy your ticket online, please click here: https://etathkara.com/etickets/aiff

Or directly from: The Film House at the Royal Film Commission (Saturday – Thursday; 12 pm – 8 pm); TAJ Cinemas (daily 2 pm – 10 pm)For further information about the Amman International Film Festival – Awal Film (AIFF), including all of our social media platforms and contact information please click here or visit our website, www.aiff.jo or call Rick W. Hindi at +962792222011.
Partners of the Festival: Jordan Tourism Board (JTB), Royal Film Commission – Jordan, Abdali Investment and Development, Zain Jordan; Royal Jordanian, Qatar Foundation, Edgo, Ghiath & Nadia Sukhtian Foundation, TAJ Cinemas, Jordan Kuwait Bank, Arab Potash Company, Greater Amman Municipality.Partners of the Industry: The Royal Film Commission – Jordan (RFC), ART, Hikmat Culture, The International Emerging Film Talent Association (IEFTA), MAD Solutions, Slate Film Services, Greener Screen, Malmo Arab Film Festival (MAFF), Luxor African Film Festival (LAFF), DOX BOX, Nation Production, SAE Institute Amman, Creative Media Solutions, Rum Pictures, SWISH Audio House, FilmLab Palestine, The Cell.Media Partners: Roya Media Group; Radio Hala; Bliss 104.3; Pikasso Jordan; Mazaj FM; Radio Dahab; Jordan Radio & Television Corporation (JRTV); Al Mamlaka.For further information about the Amman International Film Festival – Awal Film (AIFF), including all of our social media platforms and contact information please click here or visit our website, www.aiff.jo.

Amman International Film Festival – Awal Film aims to foster a creative buzz amongst filmmakers and film lovers of all kinds, by offering high-quality films and opportunities to cinema professionals. Whether you are a budding or an experienced filmmaker, an actor or a critic, an industry insider or an enthusiastic filmgoer, Amman International Film Festival – Awal Film welcomes you.