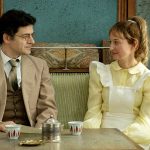 Skies of Lebanon | Sous le ciel d'Alice
August 17, 2021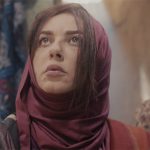 The Man Who Sold His Skin
Synopsis:
Sam Ali, a young, sensitive, and impulsive Syrian, left his country for Lebanon to escape the war. To be able to travel to Europe and live with the love of his life, he accepts to have his back tattooed by one of the world's most well-known contemporary artists. Turning his own body into a piece of art, Sam will come to realize that his decision might actually mean anything but freedom.
Director's Biography:
Tunisian director Kaouther Ben Hania studied cinema in Tunisia and then in Paris. Her previous film "Beauty and the Dogs" premiered at Cannes Film Festival official selection "Un Certain Regard" in 2017, won the Best Sound Creation Award and was distributed in many countries.
"Challat of Tunis", her first feature, opened the ACID section at Cannes Film Festival 2014.
Her second documentary "Zaineb hates the Snow" premiered at Locarno Film Festival 2016 and won several awards. "Imams go to School", her first documentary, premiered at IDFA 2010. She also directed several shorts, including "Wooden Hand", (2013) and "Sheikh's watermelons" (2018).
First-Time Lead Actor:
Yahya Mahayni is a Syrian-French-Canadian actor living in Fontainebleau (France). After growing up between Damascus, Paris and Montreal for much of his childhood and adolescence, he continued globe-trotting while studying and working in different fields. He dabbled in acting for a while, mostly taking up unpaid roles in short amateur films. Some years after giving up on acting, he was contacted to pass auditions for the role of Sam Ali in "The Man Who Sold His Skin".
First-Time Lead Actress:
Dea Liane is a Syrian-French actress living in Paris. After studying political science and history she finally dedicated herself to theatre. She was admitted in a National Theatre School in Strasbourg at the age of 24, and since her graduation she works as a stage actress with various directors and companies, mainly in contemporary plays. She was discovered in 2018 for the role of Abeer in "The Man Who Sold His Skin", which was her first role in a feature film.
DIRECTORS: Kaouther Ben Hania
GENRE: Drama
YEAR : 2020
TIME: 104 minutes
RATING: 16+
COUNTRY: France, Tunisia
LANGUAGE: Arabic and English - subtitled in English
SCREENPLAY:Kaouther Ben Hania
CAST: Yahya Mahayni, Dea Liane, Monica Bellucci, Koen De Bouw
CINEMATOGRAPHY: Christopher Aoun
EDITING: Marie- Hélène Dozo
PRODUCERS: Nadim Cheikhrouha, Habib Attia, Annabella Nezri, Thanassis Karathanos, Martin Hampel, Andreas Rocksen
AWARDS:Best Arab Film at the Feature Narrative Competition - El Gouna Film Festival 2020; Best Screenplay - Stockholm International Film Festival 2020; Edipo Re Award & Venice Horizons Award for Best Actor - Venice Film Festival 2020
CATEGORY: Jordanian Premiere
CATEGORY: Feature Narrative