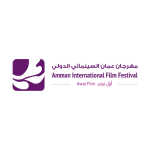 Submissions to Amman International Film Festival- Awal Film Close in Two Weeks, January 15, 2020.
August 5, 2020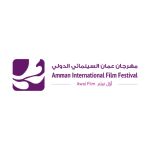 Accreditation to Amman International Film Festival is Now Open, March 8, 2020.
August 5, 2020
Amman, February 17, 2020
---
Amman, 16th of February 2020 – Amman International Film Festival – Awal Film (AIFF) unveils its poster for its inaugural edition (13th – 18th April 2020) and announces that Mohanna Durra, a trailblazer in the Jordanian fine arts movement has designed the festival's Black Iris Award.
Mohanna Durra, pioneer of Jordanian Cubism and Abstract painting in Jordan, was the first Jordanian to receive a formal academic art education having graduated from the Academy of Fine Arts in Rome in 1958. In Jordan, he founded the Fine Arts Section at the Department of Culture and Art, Amman, and the Jordan Institute of Fine Arts in 1970. His works were exhibited in Washington DC, Moscow, Saint Petersburg, London, Rome, Vienna and major Arab capitals. Having paved the way for many firsts in the Jordanian Fine Art scene, Durra leaves his mark on the Amman International Film Festival- Awal Film that acknowledges first-time achievements and is the first of its kind in Jordan.
Made from bronze, the trophy was designed by Durra to reflect AIFF's symbol, the Black Iris, so chosen because it is Jordan's national flower whose complexity and intricacy parallel the complexity of the creative process and the inspiration that goes into the craft of filmmaking. Commenting on this, Durra said, "The design of the trophy meant to avoid photographic realism and sought to simplify the outlines in order to lead the beholder to a world of sublimation. All this, without losing any of the dynamism or movement and vitality necessary to express the black iris, which blooms with it beauty in Jordan."
The poster for this year's edition is that of a black iris superimposed against a film reel. Amman's skyline frames the bottom of the poster, to combine the different elements that the Festival aims to highlight: the black iris as a symbol of creative inspiration, faith and hope for a better tomorrow; Amman as a location and an incubator for rising Arab film talent, and purple as the overriding colour, combining the calmness of the blue and the energy of the red, while representing power, magic elegance, creativity and ambition.
For more information, visit AIFF's website www.aiff.jo, call us at +962792222011 or email us at info@aiff.jo. For questions on AFID please email: afid@aiff.jo.
Partners of the AIFF: Royal Film Commission-Jordan; Jordan Tourism Board; Abdali Investment and Development; Abdali Mall; Bank al Etihad; Zain; Pikasso Jordan; Prime Cinemas; Ghiath & Nadia Sukhtian Foundation; Edgo.